Month in review: May 2018
Just before writing this, I was:
Booting up my 3DS so I can get back into Pokemon Alpha Sapphire!
This past month, I achieved:
Getting my tonsils out - whilst this was quite an ordeal, with lots of pain and some minor bleeding at home, I'm almost at the final stage of recovery. It's been nice, in a way, to watch the world go on for the past two weeks while I've been essentially bedridden. And I was surprisingly calm before and during the surgery, which was incredible. Very thankful for modern medicine.

Finished ONE book:

Started TWO books:

Meditating for 6 days this month. Whilst that statistic is a bit tragic when you consider that the month had about 31 days, I noticed a correlation between the week I practiced meditation daily, and my general wellbeing. I plan on keeping this up next month, with the promise of an unhealthy Starbucks drink if I do it for more than 15 days of the month!

Got back into side-projecting since I had a lot of time during surgery recovery. Been building a side project using Flask and Postgres. I learnt a bunch of things including about image processing and manipulation in Python, and how narrowing your scope leads to insane productivity gains.
This past month, I learned:
The power of flow in experiencing a better life. Having had a lot of time off this month, and just finishing off Flow: The Psychology of Optimal Experience, I reflected on when I was happier and when I was less happy, and the activities that I was doing at the time.
Whilst it was hard to focus at first, I found that when I had energy, the vast majority of happy times coincided with programming, reading, and writing. Watching the difference in lifestyle I have from my parents - who spend most of their evenings cleaning and watching TV - I feel that I've definitely started building some good habits that will make me happier throughout life.
In the early days of post-surgery recovery, I couldn't do much but watch television and listen to light podcasts like 99% Invisible. Unfortunately, these things were essentially little more than mental chewing gum, and I can't say I've been bettered as a person by either of them. The value of deep reading and processing things allows us to gain nuance and context, which you can't really get with a 20 minute podcast.
In any case, I wouldn't recommend reading "Flow"; it has too few actionable insights to be worthwhile, and I'd just read a summary if you are less keen on the underlying mechanics and reasoning than I was. But I can definitely see the value from it, and I'd encourage anyone to consider more deliberate practice in their life. That doesn't mean the need to "crush it" every day. On the contrary, there is little more that I'd like to burn from tech culture than the "crush it" mentality.
But thinking more deliberately about things you want to learn, and ensuring that some of your activities go towards that, is a great start to a more satisfying life. As long as you carve out some time for artistic pursuits, that is.
This past month, I got bored of:
Nothing!
But that's OK, because I enjoyed:
Relaxing and watching the world go by.
Today, something that made me happy was:
Lying in bed with the sun warming me up and a cat sleeping at my feet.
Today, something I could've done better was:
Sleeping better, and then waking up earlier, more satisied with my rest!
Tomorrow I'm going to:
Go back to work! Super excited after two weeks of basically doing nothing at all.
In June, I'm looking forward to:
Beta testing a side project Pat and I have been working on for the past year-and-a-bit. Pretty excited to get some feedback on it - if you want to be involved send me a DM to my Twitter.

My twenty third birthday! Birthdays are a difficult time for me, with lots of anxiety surrounding the various familial and friendly events that you do for them. That's not to mention the fact that birthdays, while symbolic, do represent the passage of time, and that's not something I really enjoy.

Getting back into Sydney life - I've been out of it for the past few weeks due to sickness and then post-op recovery, so I'm excited to savour lazy days and exciting nights over the next month.

Seeing St. Vincent live at the Carriageworks in Sydney. I love her work and artistic direction, and St Vincent's music is consistently fascinating, so it's going to be an awesome time.

The Archibald art exhibit at the Art Gallery of NSW - always a good event, with free tickets being given out to ANZ cardholders during the weekend commencing the 30th June.
In June, I'm going to make the positive change of:
Working on one bit of my side-project every day of the month. I'm going to need to get back into my everyday life slowly, and I think forcing myself to make some progress on a side project that requires me to be at home will help with rest.
One thing on my to-do list is:
Catching up all the stuff I missed while I've been away.
One happy photo from the past month is:
This terrible picture from the Eurovision party I attended this year.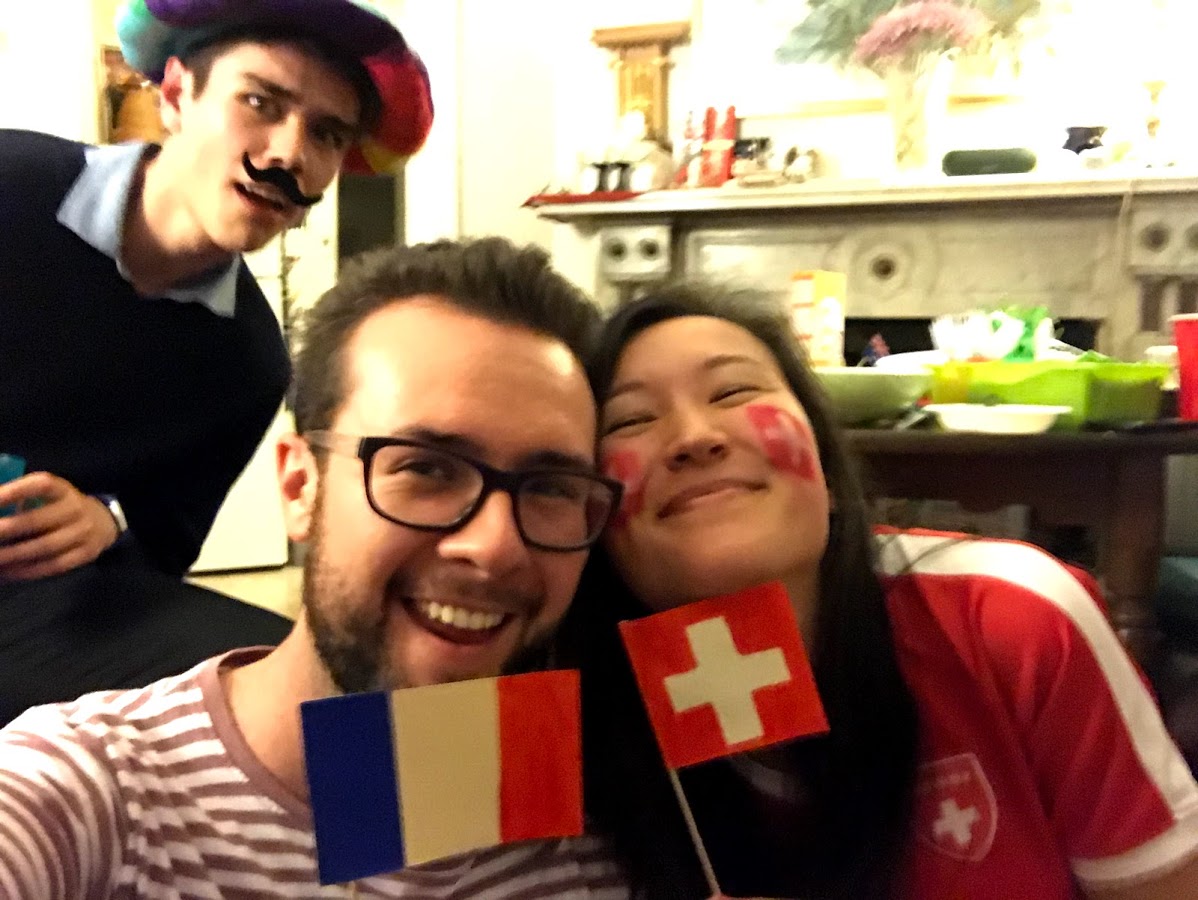 After this post, I'm going to:
Pack my stuff up and head down to Sydney so I can hang with David for the afternoon!