🌟 Achievement unlocked - March 2019
The month of March was full of rain and food. Damn good food.
Just before writing this, I was:
Eating blueberry pancakes 😍
This path month, I achieved:
🥡 Moved my blog over to Netlify for easier deployments of my statically generated site
🔨 Built a Haiku site, which involved using Markov chains for the very first time! Check it out here: haikufriday.club
⛺ Hosted a successful DevCamp offsite at Campaign Monitor
🛫 Went to Melbourne with my boyfriend and had a super relaxing long weekend
🎵 Saw "Muriels Wedding: The Musical" live
🏗️ Started a new project at work that has some exciting potential
This month, I was reading:
This past month, I learnt:
I can be quite tricky to travel with. I tend to stress out a lot, both of a morning and midway through the day when plans change. This is due to a deep drive to make the most of my time and get the most out of the experience.
This was hard and led to a few arguments. I think I'm slowly learning to take my time on things, and enjoy the present a little bit more. It's still hard, but I'm going to make a concerted effort to do it going forward.
I also bought a little book while I was away, called "How To Travel", that has a series of essays and meditations on what it means to travel.
This month, I couldn't stop listening to
The entire "Muriels Wedding" soundtrack
"Tieduprightnow" by Parcels
"Palo Alto" by Jack River
Today, something that made me happy was:
A lesbian couple walking down my sunny street with two dogs, as I come back from the shops with some blueberries for breakfast 😄
Today, something that I could've done better was:
Honestly? I started today pretty darn well.
Tomorrow, I'm going to:
Go to work, then get ready to drive up to the coast where I'm getting my wisdom teeth out on Tuesday 😱
In April, I'm looking forward to:
The release of Jenny O'Dell's book, the aptly titled "How To Do Nothing", which expands on her talk and Medium post of the same name
The Easter break and a few parties
Potentially seeing Megan Washington live at the Golden Age cinema
Some projects at work which will unblock some high-priority features that I've wanted since I started at CM 😄
In April, I'm going to make the positive change of:
Spending more lunchtimes in a meditative state. I'll try keeping my log on Streaks and report back progress next month!
One thing on my to-do list is:
Now that I've got a password manager (Dashlane), I need to tighten up security on all my major apps, so I'm going to put together an ordered list of sites I want to reset passwords for and provision them autogenerated passwords.
One happy photo from the past month is:
Our arvo trip to Brighton beach in Melbourne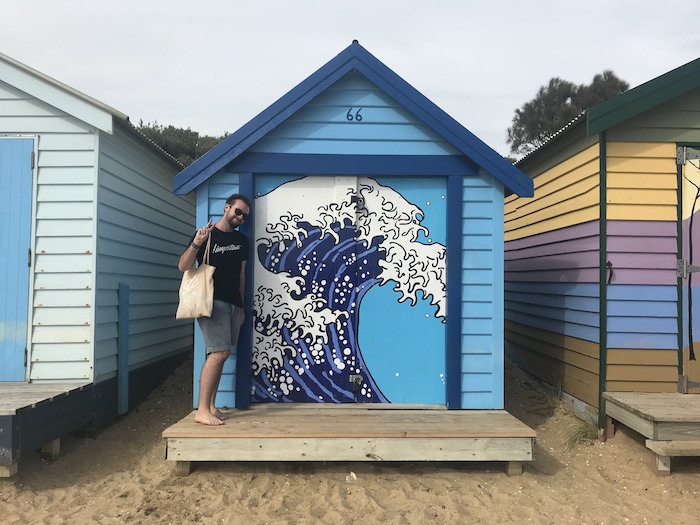 After this post, I'm going to:
Start on my book notes sub-site then go for a bike ride 😀